The Williamston Area Chamber of Commerce welcomes you to Williamston and our beautiful community!
Williamston has a lively entertainment district that includes and award-winning professional theater, and independently owned and operated movie house, and a wide variety of dining options.   The downtown business district features many historic buildings and is centered along Grand River Avenue at  Putnam Street, with the Red Cedar River flowing through the heart of the City.  Explore our unique shops, art galleries,  historic museum, and antique stores.  Enjoy one of our many fun community events such as our annual light parade in December.
As a community nestled along  the Red Cedar River, the residents and business owners of Williamston care about their neighbors and neighborhoods; taking an active part in the their service organizations,  their schools, and their city government.  There are many leisure time activities for children and families, and many volunteer opportunities available.
It is our pleasure to share this information about our community with you.  Should you choose to make Williamston your home, or a place for your business, we encourage you to visit our Chamber of Commerce office to learn more about what we can do for you.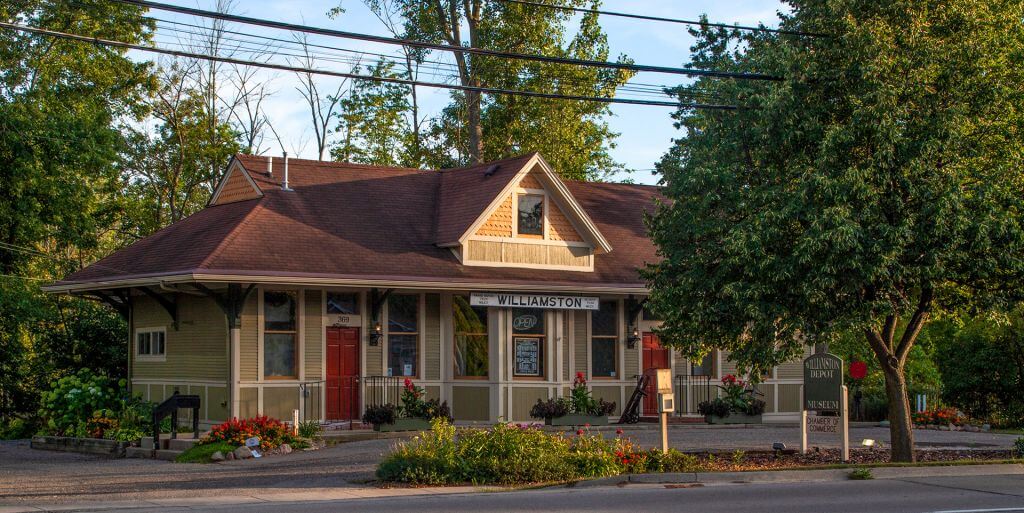 The location that was later to become Williamston started as the cross-road of the Grand River and Saginaw Indian Trails. It was first occupied by a small band of the Saginaw tribe of the Chippewa People which by the mid-19th century used the area as a 'summer village' (it was not used by them year-round, but they 'wintered' in the area that is now Meridian Township). They used Williamston for planting crops, burying their dead, and holding an annual spring gathering, primarily using the land just north of the Red Cedar River.
The area was settled by Europeans in 1834 when Hiram and Joseph Putnam moved briefly to the area from Jackson. They spent less than one full year in the area, planting and then harvesting one crop of oats. Today, inside the city limits, Williamston Road becomes Putnam Street, having been named in their honor. (For many years, several street signs inside the city were misspelled as "Putman Street", leading to confusion about the correct spelling.)
In 1839, the Putnams sold their land to Oswald B., James M., and Horace B. Williams, three brothers from Batavia, New York. James M. "Miles" Williams, who built a dam, saw mill and later a grist mill in town, eventually platted the land in 1845 and named the town "Williamstown" after himself. It is unknown how it lost the "w" in its name.
The town was a popular stop on the Grand River trail (that later became a plank road) from Detroit to Lansing in the 19th century. That trail is now Grand River Avenue (M-43) which runs through downtown Williamston. Because the primary means of transportation at that time was the horse and buggy and because the trip from Detroit to Lansing took more than one day, Williamston became a convenient overnight stop.
The town was incorporated as a village in 1871, and later as a city on April 1, 1945. A later revised City Charter was adopted by the people effective in April 1963. This charter has been amended several times, but remains in effect today.
A history of the area was published for the City's centennial celebration in 1971. It included many photographs and stories of the early city and its inhabitants. There were earlier histories, as well, published in 1880, the 1930s, and in 1963.